Wonderful news! Uncle Kevin and Patty tied the knot. Mom, Cindy, and I really enjoyed their reception and I took a few pictures to prove it. It was nice to spend some time with family. I am really happy that my uncle found someone who makes him so happy. Click here to see the album.
This year for Mom's birthday we did something a little different. Cindy, Mom, and I spent a long weekend in Orlando. We had a wonderful time and amazingly enough I got to visit a new park. We visited Epcot, Splendid China, and Animal Kingdom. The pictures can be found here.
Congrats to Los and Ja'net
Vlad makes a habit of keeping in touch with people. I know absolutely no one from high school except Vlad and his merry crew. To make a long story short, one of Vlad's high school friends, Los, got engaged in February. We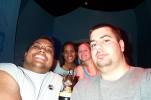 were so excited for him and anxious to meet his fiancÚ, Ja'net. I was initially very intimated. We ended up spending a weekend together in Orlando. We went to Islands of Adventure and walked half of the city. Ja'net turned out to be wonderful. We are hoping to have another couple's weekend soon.

Over the last few months, Vlad and I have been talking about getting our own little bundle of joy. The breed was our first concern. I thought we should get a small or medium dog. Vlad was set on something huge. After reading dozens of descriptions, we decided on a German Shepherd. Finding a good GSD was another undertaking. We went to the scariest "breeder" in North Florida. The place had an odor that rivaled most landfills. We were overjoyed to find a couple with the prettiest, healthiest, best tempered GS ever. We first saw Benz when he was just learning to walk. On our second visit, we took the camera with and got pictures of our boy, his sisters, and parents. Now that we have him home it is a challenge all its own. He is growing fast and getting into lots of trouble! Benz does have his own website. He is going to be the most well documented dog ever.
Like most of the country, Vlad and I thought it only appropriate to vacation as the summer days come to a close. Jenny has started school and we had planned to meet up with her and Heather in TN. We arrived on Friday night. I was so excited to see Jenny. She looked very good after the summer even though she was sleepy. Jenny is living in a freshmen dorm now which sucks because they have curfew for boys. The new freshmen seemed unfriendly and snobby. We got up on Saturday and made Jen look at our pictures from Vegas. Heather and Jonah met us for lunch at Hooters. Not a meal that I would like to repeat. Heather, Jonah, Vlad, and I then went to Cade's Cove and hiked the trail to Abram's Falls. These are all of the pictures that we have from the trip - click here to see them. We returned rather late that night and covered in dirt and mud. On Sunday we convinced Jenny to skip church and we all went to Dollywood. We really had a quiet day on the rides. Although we have been many times, this adventure we saw their resident magician. Our last day in TN, we ate lunch with Jen and sat around and relaxed. We left later than we expected but some how managed to arrive intact.
Our trip began with a two hour drive to the airport at 4am. Vlad and I were so tried until we saw the Grand Canyon from the
plane window. It was quite breath taking. We arrived in Las Vegas with little sleep and a lot of excitement. We decided to
hike down the strip in search of food. As it turns out, the 107 degree weather was not kind to us and my white ass shouldn't
be out in the sun for that long. Vlad rented a Honda S2000 and we drove down to Red Rock Canyon. It was incredibly
beautiful and the scenic drive had plenty of curves to test the Honda's steering. Vlad's driving scared me on more than one
occasion but somehow we survived. The next morning we went to the Hoover Dam. Our tour guide had the personality of a dead
sea slug and despite him, it turned out to be quite amazing. Afterwards, we drove around downtown. Vlad managed to give back the s2000 and we (somehow forgetting that we were in the desert) decided to walk the two blocks down to the Hilton. After
beating off a few vultures, we arrived at Star Trek: The Experience. The museum was nice and had a few great props. The
ride was of Disney quality and my favorite of the whole trip. We ate dinner at Quark's bar. The menu was very cute and had
lots of amusing drinks like Seven of Nine, Badlands, Worp Core Breach, and food like James T-Bone and Bird of Pray. We went to Caesars that night. The IMAX: Ride For Atlantis was okay. We walked around the shops. The FAO Schwarts was huge and gives the NY store a run for its money. Vlad found a puppy he wanted to take home (it really was comfortable). On Monday, Vlad and I toured the Venetian. The shopping center looked a lot like the one at Caesars. We decided to eat lunch there after getting a recommendation from Denise. We ate at Zeffrinos which was located on the second floor on the shopping strip in the Venetian. Down below us were the gondoliers singing. The number of people that served us was amazing. I believe it was around six people. We met up with Pablo and went to Luxor. I thought it was a too cheesy. We did the IMAX: Search For Obelisk ride there. It was okay but I wouldn't recommend it. Then we walked through New York New York and went to M&M and Coke World. The three of us then went over to the Belagio to see Steve Martin's private art collection. The paintings were nice and often had an amusing description from Steve himself. Vlad and I went to see Rodney Dangerfield's show that night. It was really wonderful. Rodney was funny and went through one joke right after another in his usual mile-a-minute style for over an hour. We flew out the next morning. When we started boarding the plane, a women came by and took up our tickets and asked us to stand aside. Both nervous, we stood aside and waited. The woman explained that someone had cancelled and they had room in first class... so they bumped us up to first class. It was the best! We had a three course breakfast that was amazing. I thought it was just
the huge seats but first class was so much better than just being comfortable. We drove home exhausted and loosing 3 hours
on top of that. I am so glad that we had the opportunity to go and I appreciate Florida's steam bath weather now. Viva Las Vegas. Pictures are at the bottom of Vlad's description.
In just a few weeks I will packing up and flying to Las Vegas. This is going to be my first big vacation with my boyfriend. We have driven up the country in search of corn fields and huge roller coasters, but this will be our first trip in a plane. Okay, so I am easily amused.
This has been one of the most exciting summers yet. It started with graduation. It was a little boring to sit through but I am so glad to be done with school. Vlad and I took a much needed trip to Ohio to visit Heather and Jonah. We also got to the Disney water parks. The pictures are quite embarrassing.
This section is going to be all about my family. This is going to be under construction for a while. There are a few pictures. I hope to expand to recipes from grandma. I will update this section more when I can go home.


Katie's kitchen